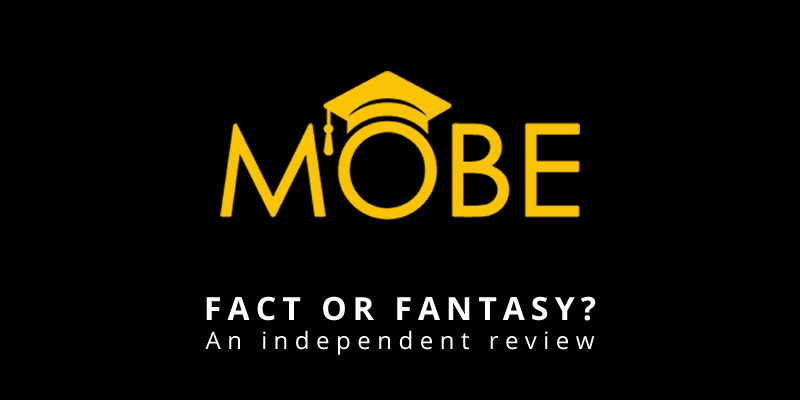 If you've been involved in the Internet Marketing world for any length of time (or even if you haven't), then you've probably come across MOBE.
At the very least, you've probably heard some of the controversy — on the one hand there are people (lots of people) claiming to be making truly eye-watering amounts of money with MOBE, and on the other hand there are lots of people claiming it's a scam, a pyramid scheme, or some other form of evil.
Both sides are making strong claims — which one is the truth?
Well, I am not a MOBE affiliate myself, but I know several people who are, and for this exercise I went undercover and shadowed a brand-new MOBE member to see EXACTLY what's inside, how it all works, and if the claims are genuine.
This is what I found…
First of all let's back up, and see what it's all about.
What is MOBE?
MOBE is an online business system that claims complete beginners can create a real online business from scratch, and generate (if the claims are to be believed) very significant income in a relatively short space of time.
Some of the top earners are claiming incomes over over $100,000 per month, and there are several multimillionaires who attribute their success to MOBE.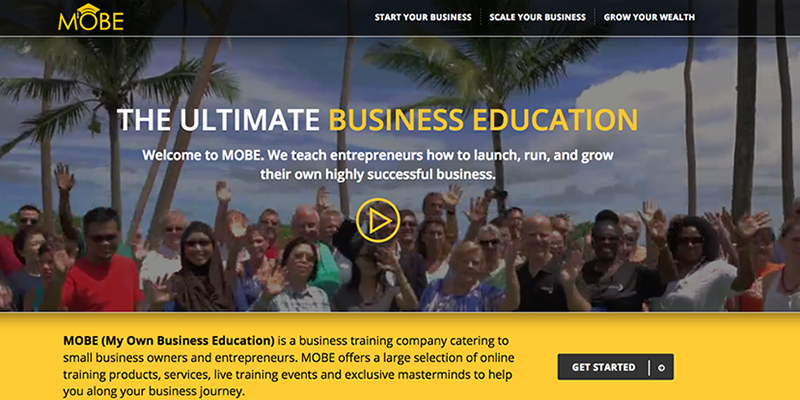 MOBE was launched by Australian Matt Lloyd in 2011. Initially the acronym stood for My Online Business Empire, but this has since been changed to My Own Business Education.
In their own words, "MOBE is a business training company catering to small business owners and entrepreneurs. MOBE offers a large selection of online training products, services, live training events and exclusive masterminds to help you along your business journey".
In plain-speak, MOBE is a complete system of training, and products that you can promote to earn affiliate commissions.
They provide you with products that you can sell and earn commissions, and they teach you how to promote and sell them.
As a concept, it's really very simple and uncomplicated. There's nothing outlandish here — it's straightforward affiliate marketing, backed up by a training program.
Where it differs from the norm (and it differs CONSIDERABLY), is the results people claim with it.
And the costs…
But before we get into that, let's take a look at the background. Specifically at the man who founded MOBE — Matt Lloyd — because he really is the heart of MOBE, and the whole thing stands or falls on him.
Who is Matt Lloyd?
Matt is a very dynamic, and some would say intense, young Australian entrepreneur who started off struggling to make an income online, working from his bedroom on a sheep farm.
He has the obligatory rags-to-riches story, and although he's undoubtedly made a great deal of money over the years, he appears to live fairly simply for a man of his means. Certainly, you never see him posing in front of a Lamborghini with his shirt off which is a great relief.
(Sadly the same cannot be said for some of the other MOBE affiliates…).
Over the course of my investigation, I have spent a lot of time listening to Matt on podcasts, watching him on webinars and videos, reading articles he's written, and reading his book. Although I've never met him, I've come to know him quite well.
I have to say, without doubt he knows his stuff.
I've been in internet marketing a long time, and there are a lot of people in it with big egos and strong opinions. It's rare that I find myself in agreement with everything somebody else in this field says, but I cannot fault Matt on his theory and what he teaches.
In fact he takes it to another level — he goes way beyond anything I've seen before, and teaches a lot of stuff besides plain old internet marketing techiques.
Really important stuff about investment, wealth management, and business strategy, all of which is essential to being a successful online entrepreneur.
But this whole thing is about credibility — is it all genuine?
And as I said earlier, this whole thing hinges on Matt, so his credibility and 'genuine-ness' is at the heart of it.
There are a lot of people who claim MOBE is a scam and that Matt Lloyd is not genuine.
My quest is to find out the truth.
There is certainly a LOT of bad publicity out there about both MOBE and Matt, and there's no smoke without fire — right?
Or wrong…?
Why is there SO much bad publicity around MOBE?
Now I have to be very careful here… lawyers are involved.
I should probably give some sort of disclaimer along the lines of 'all opinions are my own, and I make no claim as to the correctness or completeness of the information in this article', before proceeding further, so please take that as read!
As far as I can see, there are three main reasons why there is so much bad publicity around MOBE:
Firstly there are the people who have tried MOBE and failed, and have felt sufficiently aggrieved to write about it and try to stir up some bad publicity.
Now I've got to tell you from my own experience, there are a lot of nutters out there (* removed for legal reasons).
No matter how good, or how genuine anything is, there will ALWAYS be a small minority of people who don't get it, can't do it, have unrealistic expectations, want everything for nothing, and then blame everything except themselves for their failure.
You can't avoid this, so for the purpose of this article I'm going to discount this group. It's a small group anyway.
The second reason is much more sinister (and this is where it gets tricky legally)…
There was (allegedly) a group of affiliate marketers, who (allegedly) used the nefarious tactic of writing fake reviews about MOBE (and other products), as a way of promoting their own products.
The (alleged) strategy was to piggy-back traffic from other products by writing what looked like genuine reviews to attract people who were thinking of buying said product, and then pan that product and recommend their own instead!
This practice has sadly become very widespread in our industry, but MOBE has been affected more than most because as a big-selling product they were specifically targeted for this technique.
The third reason appears to be just plain, old-fashioned sour grapes, and jealousy. The 'not invented here' syndrome, or 'yeah I could have done that, but I couldn't be bothered, so I'll slag off everybody that did'. And this from people who have never even tried it!
If you look at the bad publicity around MOBE and Matt, as far as I can see nearly all of it falls into those last two camps.
So far I haven't found any real, genuine negative feedback from real people (non-nutters) who have given it a proper shot.
How does the MOBE system work?
As I said previously, the MOBE system comprises products you can sell to earn affiliate commissions (BIG affiliate commissions!), and full training to help you sell them.
There are a number of different MOBE 'systems', all with different names, but all essentially the same thing— just packaged and re-branded to suit a particular target market.
These have names such as Turnkey Business System, My Top Tier Business, WiFi Millionaire, 7 Figure Nest Egg, and others, all targeted at particular demographics, but all the same thing under the hood.
The heart of the system is the MOBE 21 Steps training which teaches you how to sell the products.
When you've finished the training, the products that you sell are in fact (mostly) the same training you have just taken yourself.
There are other products you can sell — lots of them, but the core product is the training.
This is probably what gives rise to the frequently-asked question "is MOBE a pyramid scheme?".
Is MOBE a pyramid scheme or not?
According to Wikipedia, "a pyramid scheme is a business model that recruits members via a promise of payments or services for enrolling others into the scheme, rather than supplying investments or sale of products or services. As recruiting multiplies, recruiting becomes quickly impossible, and most members are unable to profit; as such, pyramid schemes are unsustainable and often illegal".
So by that definition, MOBE is NOT a pyramid scheme.
Firstly a pyramid scheme is all about recruiting members (that's how you earn your money), rather than supplying real products. MOBE on the other hand is all about selling actual products.
Secondly, because it's based on real products, the MOBE business is sustainable which is the main problem with pyramid schemes — they are not sustainable.
So MOBE isn't a pyramid scheme at all. Some people are interpreting the fact that you're selling the training that you just took yourself to mean that it's a pyramid scheme, but that is simply not the case.
Why on earth shouldn't you sell something that you have bought, used, and benefited from yourself?
There is nothing wrong with this at all — in fact it's a highly ethical position.
How does the MOBE compensation plan work?
There are a LOT of products you can sell within MOBE. In fact the MOBE Compensation Plan which details all the products, what they cost, and how much commission you earn from promoting them runs to 15 pages!
The main products are the entry-level 21 Steps training in various guises which sells for $49, and then several different high-end products — coaching, live events, masterminds and summits which sell for considerably more.
The 21 Steps $49 training will earn you commission of $24.50 if you are a standard affiliate, or $44.10 if you are a higher-level affiliate.
Some of the high end products sell for several thousand dollars, and these are what earn you the high commissions.
For example the Silver Masterclass will earn you $1,250, and the Diamond Mastermind will earn you a whopping $13,500!
This is how people make a lot of money with MOBE…
It's very much easier to make a big income selling products that earn you big amounts, than it is by selling lots of little things.
Obvious I know, but most affiliates spend their time chasing tiny commissions of $7.50 or $20, and the truth is you have to make an AWFUL LOT of sales to make any money at that rate.
But if you're earning $1,250, $2,500, or $4,800 a pop, you don't need to make many sales at all to make a very good living (that's how John Chow made $9,000 whilst he was driving his daughter to school!).
What's the catch?
This is the part that puts people off…
In order to be able promote the high-value products that pay the big commissions, you have to have bought them yourself first.
MOBE require you to have bought these products yourself before you are eligible to receive commission on them (you can still promote them, you just won't get paid!).
Accustomed to affiliate programs that are free to join, many potential affiliates are put off by this. They don't like the idea of investing $2,500 to be able to promote something, when they don't normally have to pay anything to be an affiliate.
Well that's true, but those things you can promote for free don't pay you $1,250 commission!
So MOBE is just like a conventional business in that you do have to make an investment up-front in order to be able to earn higher revenues.
You wouldn't open a shoe shop and expect not to have to find premises, and stock it with shoes before you started trading, so why should you expect an online business to be any different?
I actually think it's a really good policy, and I'm all in favour of it.
How can you sell something to other people if you're not prepared to buy it yourself…
How much can you earn as a MOBE affiliate?
Well MOBE have paid out over $50 Million in commission to their affiliates, so the answer is rather a lot!
John Chow is now one of their top earning affiliates. I've known him since he was a humble blogger, and he's a genuine honest guy. This is what he says about his earnings with MOBE:
So that shows what is possible…
But what is it REALLY like inside — what can you expect if you join MOBE?
For that, I'm going undercover and shadowing a brand new MOBE affiliate and following their progress through the program.
This new MOBE affiliate (I'll refer to them as 'X' from now on), had NO prior internet marketing experience whatosoever, so this is a true test of starting from scratch.
(To thank X for their help in preparing this article, I've used their affiliate link where appropriate, so you can feel good about helping a newbie succeed if you decide to join MOBE yourself!).
What's it like inside MOBE?
As I said earlier 'X' had no previous internet marketing experience at all. They just happened to see a video about the MOBE business opportunity, which was sufficiently compelling to induce them to take the 21 Steps Training (this is the actual video that 'X' watched that convinced them to join MOBE).
X said that although initially sceptical, the business proposition seemed to make sense, and in any case there was a money-back guarantee on the $49 cost, so it wasn't exactly a huge risk.
There appeared to be a great deal of value in the training alone, so X figured that it was worth it just for that — even if they decided not to go for the business opportunity, the training looked well worth the relatively small cost.
In fact, it turned out to be something of a bargain…
What's in the 21 Steps training?
I took a keen interest in the training. Having spent years learning my trade as an internet marketer (since 1994 — gulp!), I was very curious to see how they would approach getting a complete beginner to the point where they would be able to go out and make money.
It took me a good couple of years before I made any real money myself (you can see my affiliate marketing story here), but MOBE seemed to suggest that you could acquire the necessary skills in just two or three weeks, and be able to start making money shortly after.
I must say I was slightly sceptical… (slightly..? I thought it was bloody impossible to tell the truth!).
But I underestimated the depth and the sheer intensity of the training.
This is NOT your normal internet marketing/make money online training course. Far from it.
For a start, you get a personal coach who you speak to every day. They set you work assignments and check that you have completed them satisfactorily before they send you on to the next step.
The training is delivered through a combination of very well-presented video tutorials and written materials. Once you've completed a module, you discuss it with your coach and provided you've understood it all, you move on to the next module.
This is PROPER training — not some Mickey Mouse course that somebody has thrown together just to have a product to sell.
This training is purpose designed (and designed very well) to actually achieve results for the student, rather than just deliver some knowledge.
What most internet marketing training does wrong, is to concentrate solely on technical skills and techniques.
Sure, you do need these, but actually of all the skills you need to acquire they are the easiest bit. There is nothing intrinsically difficualt about learning how to place a Facebook ad, or setup an autoresponder, or learn the basics of SEO or copywriting.
Actually, you can learn all of these things for free off the internet. All that most Internet Marketing courses do is simply to package it together.
This is very different…
This training teaches you about business strategy and mindset first of all. These, not technical skills, are the MOST important factors in becoming a successful internet marketer.
As one of my favourite authors, Derek Sivers, says "it's not all about knowledge — otherwise we'd all be billionaires with perfect abs".
Most people who buy training courses never actually implement what they learned in the course (if they even finished it ) — they just go on to buy another course. And then another…
So the 21 Steps training concentrates on creating the right mindset in the student before getting on to the nitty-gritty technical skills. In fact it's quite some time before the mundane techy stuff is even mentioned.
You almost think they are never going to get round to it, but they do. And when they do, that's good too.
I have to say I am completely blown away by the training. I never use the word 'awesome' because I think it's ridiculously overused (I'm English!), but in this case I think it truly does apply.
I found it completely inspiring, and I learned a huge amount from it even though I wasn't doing it myself, I was just following 'X's progress.
If you seriously want to create any sort of online business, then I highly recommend you take this training — even if you're not interested in MOBE. The training is frankly ridiculous value, it should be $1,000 or more.
But don't bother unless you're serious, and you REALLY want to be successful — it's way too intensive if you're just dreaming about it, or only casually interested.
You've got to want this, and you're gonna have to work to get through the training. Not too much, just a couple of hours per day, but you've got to be mentally prepared to commit that much time for a couple of weeks or so.
MOBE coaches
I think one of the key things that makes the training so effective is the fact that it includes one-to-one coaching (via Skype calls) with an experienced marketer.
The process of checking that the material has been understood properly (and answering any questions), before the student moves on to new material is what really sets this training apart. And that's how they get the results they do.
Speaking to different MOBE affiliates, the coaches do vary a bit. Although they all teach basically the same thing, they have differences in emphasis and they way they tackle things.
And of course, just like the students, they all have their own personalities and interests.
X had a fantastic coach in the beginning, although he did set quite a high workload, particularly in the amount of extra reading that was required outside of the formal coaching (although apparently not all coaches want you to do that much reading — other people had a different experience).
Nevertheless he was very helpful, and patiently explained things when there were any problems.
X's second coach (you move on to more senior coaches as you advance through the training) was a different story — neither helpful, nor patient, and in fact bordering on unpleasant. However a quick email to MOBE support resulted in him being replaced by another senior coach who was very good, like the first.
Not every coach suits every person, so apparently changes of coach are not uncommon. If you don't get on with your coach you can ask for another.
As well as the one-to-one coaching, you also get daily motivation podcasts and the like to keep you going. Although this sounds a bit nauseating (and some of what I heard certainly was!), some of it is pretty cool too and I know a lot of people find it very helpful and inspiring.
Once you've finished your 21 Steps, there is then a further follow-up course and coaching on how to promote and get traffic.
This teaches you about creating landing pages with ClickFunnels, setting up autoresponders, and advertising with Facebook amongst other things.
(This is all still for the $49 price tag… ridiculous!).
And then once you've completed all that, which will probably take you about two or three weeks, then you're ready to go out in the big wide world and start putting it all into practice.
And now we come to the bit you've been waiting for…
In fact, let's be honest, it's the ONLY thing you've wanted to know since you started reading this article:
Does MOBE really work?
By work, what we mean is, can you really make money with it?
The answer to that is a definite yes. On their website, MOBE actually publish their affiliate's earnings, broken down by income level: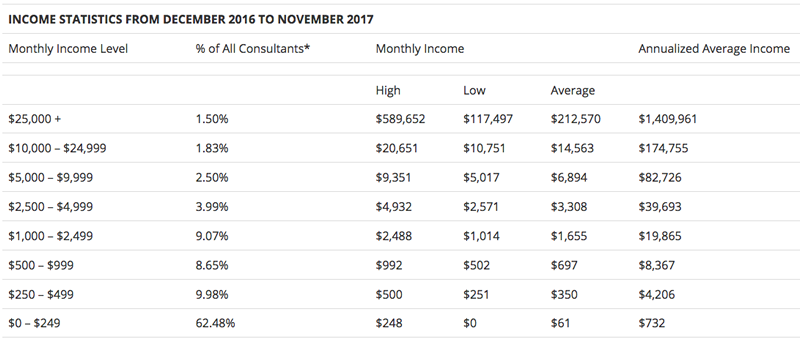 Before you look at this and think most people don't make any money, it's important to understand that these figures are for the entire universe of affiliates — everybody who became an affiliate, regardless of whether they ever did anything or not.
And as you may or may not know, most people who join affiliate programs never do anything with them! Only a small percentage of affiliates ever do anything, so what you need to look at is the results of the active affiliates.
Here your eye will naturally be drawn to the top 1.5% of MOBE affiliates who generate incomes of $25,000 per month and more, who have an average annual income on $1.4 million.
These are the superstars — people you may have heard of like John Chow, Shaqir Hussyin, and Steven Bransfield.
Are their results typical?
No, most definitely NOT. These are the top performers, and their results are exceptional.
Could you achieve the same results?
Well there is absolutely no reason why not.
All of these top performers were born with two arms and two legs, just like you — they don't have anything you don't have. I think they would probably all tell you that they haven't done anything you couldn't do…
The difference is, they DID it, whereas most don't.
In fact MOBE say that the "average" MOBE affiliate included in the stats above does not finish the 21 Step training program, and fails to even attend the weekly training webinars, and in fact does next to nothing!
So what about the people in between these two extremes — the "normal" people who don't achieve superstar status, but do put the work in to get some proper results.
As you can see there is a big group of people earning between $1,000 and $25,000 per month, and somewhere in that range is probably the realistic expectation for most people who are prepared to put the work in and do as they have been trained to do.
But we can do a bit better than that.
I can give you some ACTUAL results of how a complete beginner who completed the training and followed the system did, in real life…
How did 'X' do? A newbie's actual results with MOBE…
Now it must be pointed out that X is a bit of a swot (that's English slang for somebody who is very studious — nothing to do with men in black kevlar storming buildings), and really worked hard at the training.
That intensive study and enthusiasm undoubtedly contributed to these results. So if you want to achieve similar results yourself, you need to be prepared to really throw yourself wholeheartedly into it, as X did.
If you're tight on time, a couple of hours per day is sufficient, but if you put more in as X did, you'll undoubtedly get more out and progress faster.
X started promoting in November 2017. Didn't earn anything in that month.
But in December, X earned $2,863 — not bad for a complete beginner in a brand-new business!
The Christmas & New Year holiday got in the way a bit, so January earnings were a bit down on December at $1,517.
By the end of January X's total earnings were $4,380, and on the 2nd February, X earned a further $1,250 commission — not a bad start to the month!
So yes, even a complete beginner can definitely make money with MOBE.
If you already have some skills and knowledge, then that will undoubtedly be an advantage
Is MOBE right for you?
This really comes down to whether you want to create a high-income online business or not.
Because of the big commissions, MOBE makes it possible to earn very high incomes in a way that is very difficult with lower-ticket affiliate programs.
That's really what sets the MOBE affiliate program apart — having high-ticket products to promote that earn you hundreds or even thousands of dollars per pop, instead of chasing after hundreds of smaller commissions.
That and the training. Which is exceptional.
My recommendations:
If you are a complete beginner who wants to start an online business from scratch, you will not find better training than this, and you'll come out of it with a proven product to sell that you know works.
If you're an existing marketer, who either hasn't made it yet, or who simply wants to earn more money, then this will give you the high-paying product you need to take your earnings up to the next level.
And even if you already have some (or a lot) of internet marketing skills, you'll probably find that the strategy and mindset part of the training will show you some key things you've perhaps been missing in your journey so far — the missing pieces of the puzzle that make the difference between just scraping along and making a LOT of money.
Whichever camp you fall into, I strongly recommend you take the 21 Steps training for $49:
Get the MOBE 21 Steps Training Here (X's affiliate link)
Even if you don't want to promote MOBE afterwards, DO the training — it's that good. Seriously, it should be $1,000. It's an absolute steal.
And then once you've completed the training, you can decide whether or not you want to promote MOBE as an affiliate or not.
Either way you will come out with a whole new perspective on online marketing, and much higher chances of success than you had before.