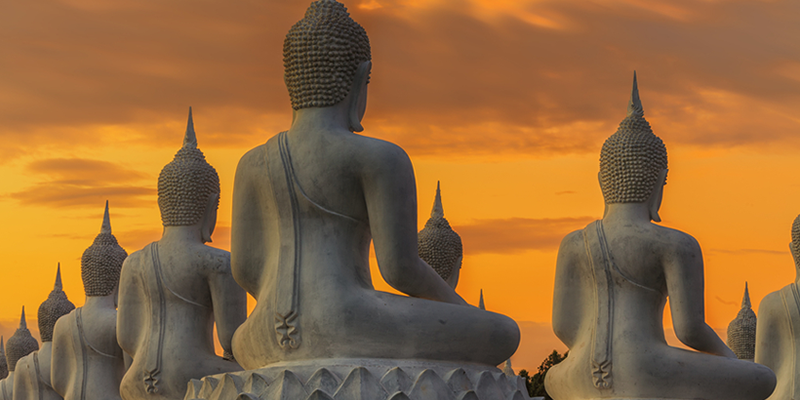 Today, I'm going somewhere very different to meet another Chiang Mai Digital Nomad. In Part 1 of this article I explained what I'm doing here in Chiang Mai, and in Part 2 and Part 3 I explained what Digital Nomads are and introduced you to a few I have met.
I'm going out to the rainforest to meet Dani Leis in a little village called Pong Noi. Dani has been kind enough to send her friend (and the best tuk-tuk driver in Chiang Mai), Rung to fetch me. Rung is something of a legend and could easily merit an article of her own…
[wp_ad_camp_1]
We blasted through the streets of Chiang Mai with her favourite funk music pumping on the stereo, while she chatted to me about anything and everything. Dani calls travelling with Rung 'life with a soundtrack' which it certainly is. Rung calls Dani 'Mali' which means 'flower', and is the name her Thai friends have given her.
Dani Leis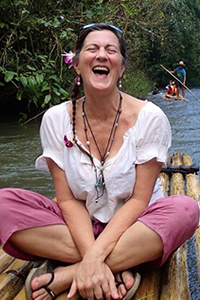 Dani is an English conversation coach from Portland, Oregon who has been in Chiang Mai since September 2012.
In the US, she worked in the nonprofit healthcare sector, managing volunteers and recruiting doctors. In the dawn of the internet, she also built websites to assist in these tasks — some of which are still in use today.
When her daughter came of age and flew the nest, Dani found she was suddenly free to do whatever she wanted. With no enthusiasm left for working in corporate America any more, she headed for Thailand and a new life.
After 10 days in Bangkok, her intention was to hit the beach and support herself by doing some teaching. Her only plan was to take a TEFL (Teaching English As a Foreign Language) course in Chiang Mai, and then see what happened from there.
What happened from there was she fell in love with Chiang Mai.
Dani was no stranger to Southeast Asia, but she instantly felt Chiang Mai was a special place and decided to make it her home. And Dani's home here is special, but more on that later…
Dani started teaching here, and quickly made an important discovery — she hated teaching!
"They have very fixed ideas about what they want you to teach. It's so boring!"
Dani knew her money was going to run out at some point, but she wasn't unduly concerned about that. She was happy being in the moment, and the uncertainty just made her more present. She recalls the words of Scarlett O'Hara "Tomorrow I'll think of some way… after all, tomorrow is another day".
She met somebody who was working online and through them discovered BuddySchool.com which is an online tutoring platform. Dani setup a profile on BuddySchool and set her stall out as an English conversation teacher. She doesn't teach grammar, nouns and gerunds, instead she teaches how to converse in English well.
Her clients (students) are from all over the world, and all walks of life. It could be a Brazilian businessman who wants to be able to improve his ability to socialise with English-speaking clients, or a Chinese PhD student who wants to improve her English. There is a massive demand for this. Dani's profile shows she has delivered 1,376 lessons, and that's just via BuddySchool.
She also offers lessons through her own site talkwithdani.com and is now easily making much more than she needs to live out here. It's not about money though for Dani, not at all. She explained the concept of 'sanuk', a Thai expression meaning to take pleasure in what you are doing.
"If it's not sanuk, why are you doing it?"
It's very similar to my own 'Rule 1', that I live by — do what you want to do, what makes you happy.
Dani lives in a studio in a little settlement in an idyllic clearing in the forest, which is home to a number of people and an indeterminate number of dogs, all of whom mob the tut-tuk demanding a fuss and a stroke as soon as we arrive.
It's a very happy place, peaceful and beautiful. It seems a million miles away from the noise and pollution of Chiang Mai city, but in reality it's probably only about fifteen.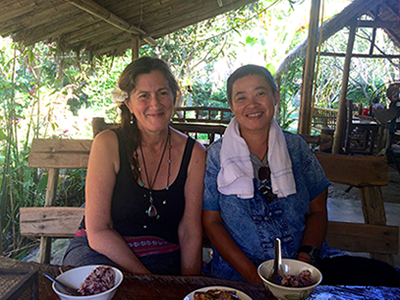 For lunch we go up the mountain to the Waterfall Cafe in the Mae Hia National Park. In this tranquil spot, we sit by a koi pond and eat my favourite khao soi (chicken and noodles in a red curry and coconut broth), and a Burmese pork curry with sticky rice.
Rung joins us for lunch but prefers to munch on the buffalo meat she has brought with her, accompanied by a bag of fresh herbs from her garden.
It's beautiful here, much more my sort of place than the noisy city, and trendy Nimman district. Dani says she never goes to Nimman "it reminds me of where I came from — it could be Portland, Oregon".
All too soon it's time to leave this delightful spot as Dani has a lesson to deliver via skype to a client on the other side of the world.
As we bounce down the rutted track in the tuk-tuk, Dani sums up her feelings about Chiang Mai. "The main thing about life here is it's so easy. Sanuk. The people are the kindest people you will ever meet, and a smile will take you so far here. People will go out of their way to help you".
Dani's top tip for anybody thinking of moving to Chiang Mai, is to make a Thai friend. This really helps you to understand Thai ways and customs. They are very different from ours, and we can easily offend without realising it. You learn so much that you would never learn if you only hang out with farangs (westerners), and it also gives you so much more insight into the Thai culture. Plus, if your friend happens to be Rung, you also have a great deal of fun!
Dani's goal is one day to franchise her business talkwithdani.com, to help other people escape the rat race by providing them with a means of earning a living online that is location-independent. There is clearly a big demand, and Dani's teaching method works, as her numerous testimonials show.
She's confident that she could enable others to do the same, and I'm sure she's right. In fact the idea is such a clear winner that the only problem I can see is that it will take off big time and before she knows it, Dani will will be back into the world of suits, meetings and spreadsheets.
When I suggested this to Dani, the tuk-tuk chose that moment to backfire and I didn't quite catch her reply…
On to my last Nomad.
Dan O'Donnell — leader of the Chiang Mai Digital Nomads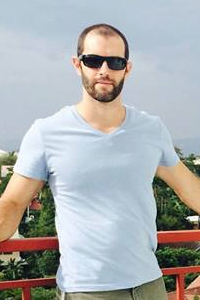 The final Nomad I met is Dan O'Donnell. He runs the Facebook Group Chiang Mai Digital Nomads which is how I got in touch with the Nomads I have met on this trip.
Dan is a laid-back guy from Bellingham, Washington State who has been in Chiang Mai since the beginning of the year. He was in the Real Estate business for ten years, and then after that he spent 4 years running a flea market in his native Bellingham.
In 2009, Dan Started a website called positiveatmosphere.com which is a community of positive people inspiring and empowering each other by posting articles, videos, discussions etc. on the subject of motivation and positive thinking.
His Facebook Page for this site has around 800,000 fans (yes, just shy of a million, and he didn't pay for them either — I'm jealous!) and sends considerable traffic. It's a popular topic, and his content is exactly the sort of thing that people love to share. There is a viral aspect to it and over the years he has built up a huge amount of content and a large and very engaged audience.
Dan was running this website on the side whilst running his flea market. It was doing OK, but his work commitments limited the amount of time he could devote to it, so it had hit a ceiling.
Then Dan took a training course on breaking barriers and re-programming your mind. As part of the course, he was confronted with the question "what is the single biggest thing you could do to change your life for the better?".
Well Dan was bored with real estate, and after 4 years of running the flea market, that was beginning to lose it's appeal too. He loved travel, and in particular he loved Thailand. He'd been here several times, mostly in the South, and then he came to Chiang Mai on vacation with his mother.
Whilst in Chiang Mai, he came in contact with the couchsurfing meetup group, something he has in common with Marion and Johnny from the previous articles. This opened his eyes to the opportunities presented by low-cost living, and also to the support network of Digital Nomads that exists in Chiang Mai.
Dan decided that the answer to the question — the single biggest thing he could do to improve his life — was to move to Chiang Mai and live the Digital Nomad dream.
His website wasn't yet making enough to live on, even in Chiang Mai. But he reckoned that if he was doing nothing else, and therefore able to focus on it full time, he could improve it significantly. It was only making a few hundred dollars a month, about half what he needed, but he reckoned with half his target income, plus some savings, it was enough!
So Dan made the leap of faith, sold his flea market business, and moved to Chiang Mai on a wing and a prayer. And a whole lot of positive attitude.
What happened?
It took off right away is what happened. Able to concentrate full-time on his online business, he quickly got it to the point where it was generating the income he needed to sustain his life in Chiang Mai without dipping into his savings.
Then as so often happens in this sort of business (it's happened to me more times than I can count), something changed. Facebook changed their system. Organic reach (the number of people who see your posts without you having to pay to advertise them) declined sharply, and suddenly a major source of traffic dried up.
It didn't go down to nothing, it's still a big site with a lot of visitors, but revenue took a big hit with no easy way of replacing it.
At the same time, alongside positiveatmosphere.com, Dan had developed a game called Better Me. This is a game quite unlike any I have ever seen before, and it's very, very cool. It challenges people to take action to improve themselves and their life, and strengthens relationships by helping people understand each other in a deeper and more meaningful way.
[wp_ad_camp_1]
Self improvement and personal development are very hot topics. There are millions of books, courses, and videos on it but this is an entirely new (to me, at any rate) way to get your personal development — in game form.
If it takes off, and I can see every reason why it might, it could go HUGE.
And there is something very interesting about games as a business, compared with say books. The product lifecycle is immense. Think of all those board games like Monopoly, Scrabble, Cluedo etc. — they have been going for twenty, thirty, forty years or more. How long does a book stay a bestseller for? Not anywhere near that long. If you can make a game successful, you can be looking at a very long term income stream.
[Incidentally, I would have sworn that Monopoly is a British game — Park Lane, Mayfair, and all that — of course it's British… It's not at all, it's actually an American game. They just made a British version which we thought was the original. Apparently there are French people who will swear it is a French game, and Chinese who will swear it's Chinese. All wrong, it's American!]
So Dan's dream is to make Better Me successful. He's sold a few, and people love it, but the startup costs are high. In order to get a viable unit cost, he has to place a large initial order with the printers which requires significant investment. Without the quantity discount, his unit costs are about four times what they should be which eats away at profits and forces the retail price up.
Dan's strategy is to work very hard on tactical, possibly short-term, moneymaking opportunities to raise enough money to launch the game properly. He's looking at Teespring and other online business opportunities to generate cash to fund the investment.
On to the subject of Chiang Mai, and life here. Dan has an Education Visa (education in the sense of him learning Thai that is, not teaching English) which lasts a year and means he doesn't have to do the dreaded border runs. It requires him to take regular Thai language classes, but if you're serious about living in a foreign country then of course you will want to learn the language anyway, so that's no great hardship.
The good things about Chiang Mai for Dan are the food, the weather, the people, and the Digital Nomad community. I asked him what the bad things were, and he looked at me blankly — there aren't any. About the only negative Dan can find about Chiang Mai is the burning season. Everything else is just no problem.
Like me, Dan is none too keen on the noisy, polluted city, or the trendy gentrified Nimman district. Where he lives is about 20 minutes from the old city, a small village where it's very quiet and dogs sleep under trees by the side of the road. Dan was kind enough to show me his home which is an apartment with a balcony, about 5 minutes away from where we met at Coffee Monster.
When I say he has an apartment with a balcony, I got that the wrong way around. It's more of a balcony with rooms — the balcony is huge. Enough room for about 20 people and a paddling pool for cooling down in. Oh, and Ping-Pong, the dog that Dan has rescued and who now lives with him.
We ate some delicious concoction of sticky rice and banana wrapped up in a banana leaf that Dan had got from the village shop, whilst looking out over the swimming pool and with a great view of Doi Suthep mountain. It would be very easy to live here and it only costs about 12,000 Baht (around £240) per month. What's not to like.
Dan has a very nice life here. He had the courage to make the leap of faith, even though everything wasn't quite in place yet. He did it anyway and it paid off.
He has a dream which keeps him going, and he has a way to fund it and to make it happen. The best thing is it's something that he's created himself, something that is uniquely him. He's not selling somebody else's product, or doing any of the usual Internet Marketing stuff, except as a way to fund the dream.
I think Better Me is going to make it. In fact I'm pretty sure it is. Remember where you saw it first.
Conclusion
That brings my time in Chiang Mai to an end. I've met some great people and I'd like to thank them all for making me so welcome and for being prepared to share their stories with me.
All of my Nomads have been very different people, but they do have a few things in common.
The single biggest one is their passion for travel. They all have this, it's probably their biggest motivation for living this lifestyle. Although they are all entrepreneurs, they are probably travellers first and entrepreneurs second, rather than the other way around.
They all love Chiang Mai. They love the food, the weather, the people, the general ease of life here, and the Digital Nomad community here. There are other hubs for Digital Nomads, such as Saigon, Bali and the Philippines, but none seems to tick quite so many boxes as Chiang Mai.
They all value being part of a community of like-minded people. People with shared interests, who are working towards the same sort of things that they are. People who 'get' them, in the way that many of their other friends and family may not.
They all work hard. If your picture of somebody living the dream is them lying on a beach all day sipping cocktails, then you've got it wrong here. These guys are driven, motivated, and they work hard. Sure, they all like to lie on the beach, or swim, or have barbecues, but they don't do it all the time. For most of them work comes first.
But they also manage to integrate work into their lives. It's all one, as opposed to the strict separation between work, and the rest of your life that is common in most conventional 9-5 lives.
Most people go to work all day, doing a job they hate, in order that they can afford to keep on doing the job they hate. Just living for the weekends and 2 weeks holiday per year.
The Nomads don't really have a distinction between work and life — it's all one. They don't hate their work, and seek to escape it. It's like the concept of 'sanuk' — finding pleasure in all daily activities, work and play. The Nomads may not all be aware of this Thai concept, but consciously or not they all seem to have assimilated it into their lives very successfully.
I think that is living the dream. Having a unified life where you enjoy what you're doing, and are not constantly doing what you don't want to do just to survive.
Sanuk. That's what these guys have all got.
So, Marion, Dmitri, Johnny, Dani and Dan, thank you so much. It's been a great pleasure meeting you, and I look forward to meeting you when I return.
So will I come back to Chiang Mai?
Oh yes! It's a special place and there are some special people here. I couldn't not come back.
Will I give up my life and home in the UK, move to Thailand and become a Digital Nomad?
No I won't. I love my home in the UK, I love the people, I love the sea and the sailing. The weather…? Well yes, ok you got me there, but I still love it here.
Although I'm location-independent, I like the life I have here. I have no need to jack it all in and run away somewhere else.
To live here and to be fortunate enough to be able to travel for short periods and still come home at the end of it — that's my dream.
Save
Save