Updated 24 November 2017
The essential Blog Promotion Strategies I used to get 589 Shares and 97 Backlinks
There is an age old problem that bloggers are forced to face on a near constant basis: How do you promote your blog post and get the shares and backlinks that all of your hard work deserves?
It's one thing to write up a quick post and watch it be eaten up by the black hole that is the world wide web. It's something else entirely to spend weeks researching, days writing, and hours editing one assignment just to have it disappear forever.
So many pieces never even see the light of day as they are overshadowed by newer, fancier, better promoted posts with a similar title and mediocre writing.
Well, not anymore.
The first (and only) step to getting your work seen is to learn how to promote it to appeal to your targeted audience.
That's where this post comes in.
I have performed experiments on countless article promotion strategies and learned the old fashioned way what does and does not work.
If you want to find a strategy that caters to you and your blog, you've come to the right place.
Let's get to it.
1. Increase your email subscribers with Welcome Mat.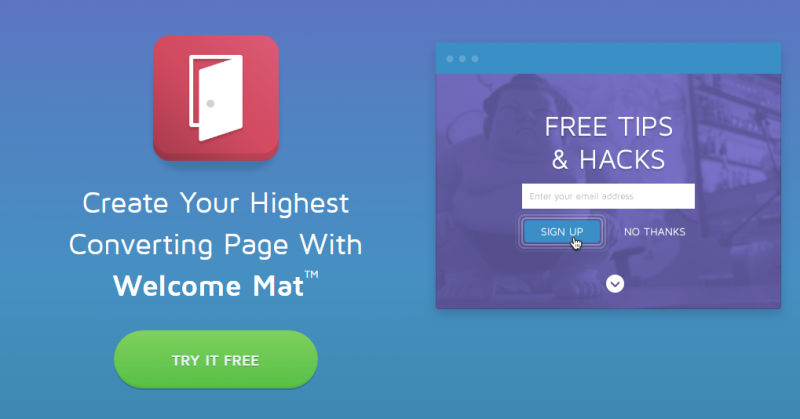 If you're a blogger, you should have an email subscription. There is no way around it. Not only is it a helpful way for you to connect with your audience, but it is just about the easiest way to promote your latest content as well. Few programs help you to garner more subscribers better than SumoMe's Welcome Mat.
The Welcome Mat feature is designed to get more email subscribers when people head over to your site, so it's basically a shoe-in for a promotional strategy. The best part is that the plugin is free to use, so it will cost you absolutely nothing to give it a shot.
For a pretty in depth, easy to follow tutorial, I highly recommend that you check out this post by WPWarfare as they explain how to install, sign up for, and use Welcome Mat to get more email subscribers.
2. Find top niche blogs and reach out to influencers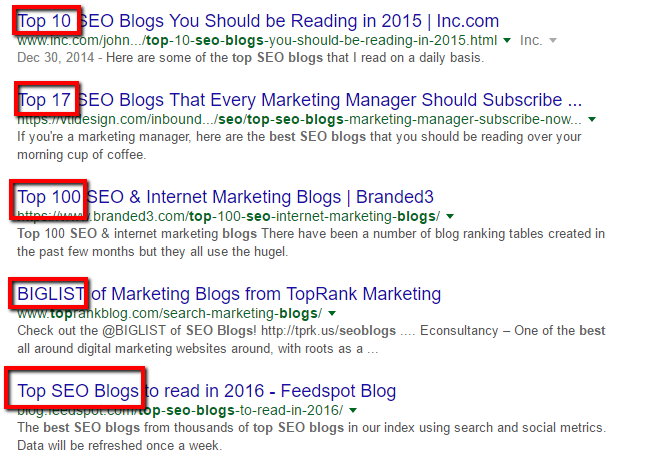 This is a much simpler strategy, but a far more time consuming one.
To get started, you're going to want to do a Google search for the top blogs in your niche. For example, if your blog post is about SEO, you may want to write "top seo blogs" and wait for the results to come up.
Many sites will do large master posts that include the best of the best. You're going to want to reach out to the names on those lists – gather up around 100 or so. I suggest saving their names and emails in a spreadsheet to keep everything organized. Once you have your 100 "top bloggers", all you have to do is send out an email in which you explain that you know they're a top name in the niche and that you would appreciate a quote about xyz (whatever your blog post is about).
From the 100 or so people you reached out to, someone is bound to reply. When they do, you have done two things: provided credibility to your post by including a reputable name, and made an important contact.
After the blog post has been written and you included their quote, you should shoot them an email to show the final product. Then suggest that they share it with their own readers if they're pleased with it. Chances are, since their name is attached to it, they will. Free promotion at its finest!
3. Use Buzzstream to to find an influencer for a quote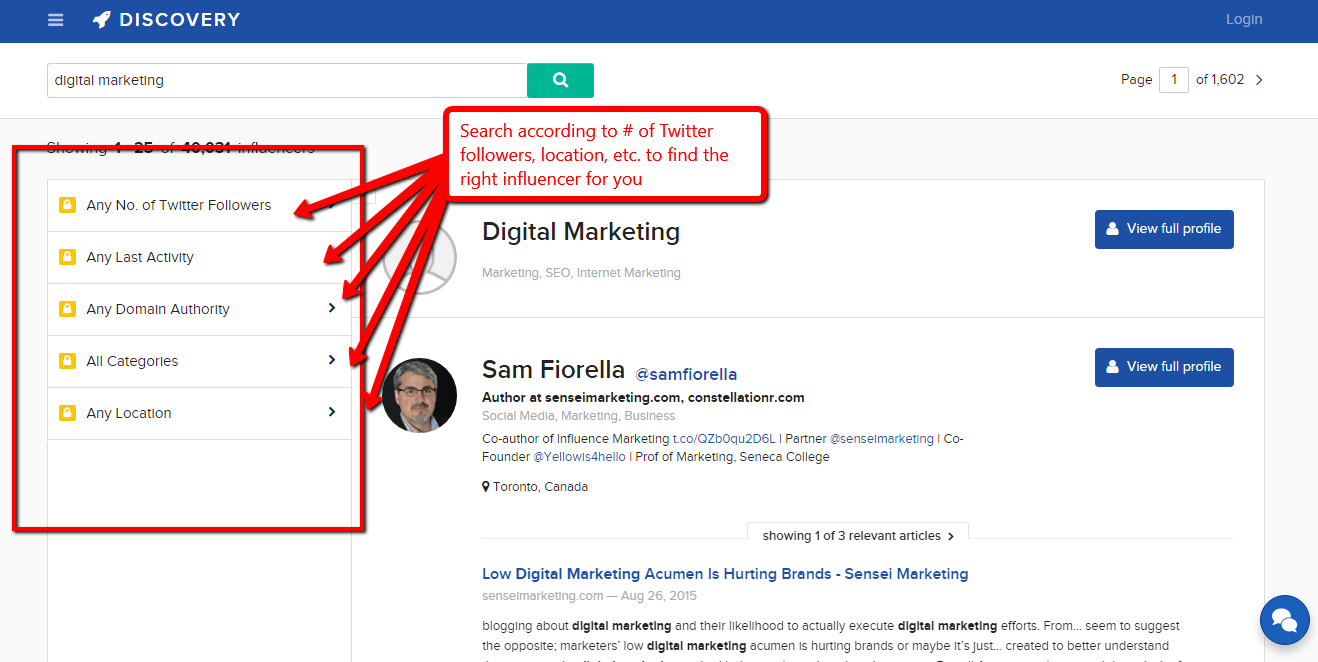 Much like we used those top niche blogs to find an influencer, you can just as easily use Buzzstream.
The link building site, which helps bloggers connect with influencers, is extremely helpful when you are looking to set your blog post apart from the others. Having an authoritative voice in there somewhere, even if only for a single quote, adds that cherry on top of the sundae.
Plus, your influencer just may share the post with their readers as well, creating extra promotion for you.
With Buzzstream, you can filter your search results by any number of criteria, including but not limited to social media followers, domain authority, etc.
Once you find the influencer who fits right in with your piece, all you have to do is reach out via email and explain what your blog post is about and that you would appreciate their expert opinion.
Voila!
4. Use Buffer to automatically promote your posts to social media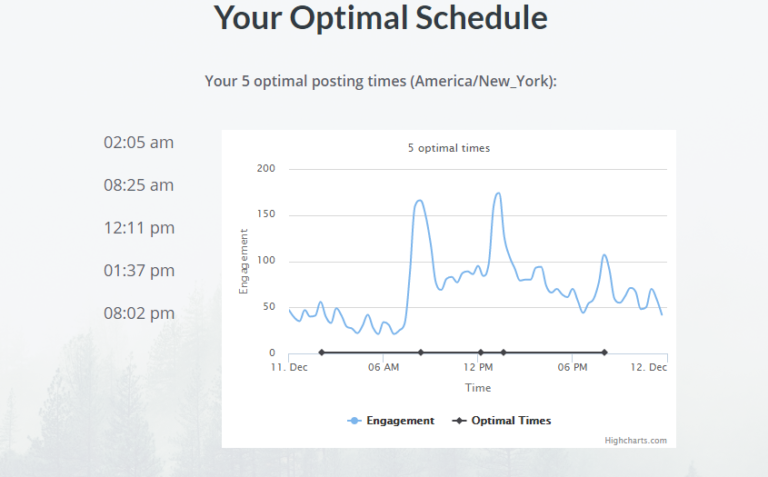 Buffer is a pretty neat tool. Everyone knows that social media is the most obvious place to promote your content, after all, but it can be extremely tedious and time consuming.
There is so much that goes into social media posting, from organizing and setting up the posts to figuring out the prime time to send your content out to your followers.
Buffer takes care of all of that for you. Not only can you automatically schedule your posts so you don't have to lift a finger, but they will tell you the prime time to actually post your content for optimal views.
This is extremely important if you are looking to get the most out of your social media shares. Like it or not, social media could easily make the difference between your blog post going viral or having only 3 views and 1 trolling comment left on it.
Taking advantage of products like Buffer makes a world of difference at the end of the day, and can actually free up a bit of your time so you can focus on more important things — like your next blog post.
5. Hire a freelancer on Fiverr to create a $5 infographic of your blog post

Some people like to read. Others do not. For those people who like to obtain their information through visuals, an infographic is the answer to your prayers.
There are several benefits to an infographic, though arguably the most important is that it is an easier, less time consuming way for your readers to receive the same information that they would from your blog post.
As much as we'd like to believe that everyone wants to read us drone on for 50 paragraphs, some people simply don't have the time. By creating an infographic – a one stop shop for your readers to retain all of the information – you are cutting down on the time it takes people to read it, and you're doing something "trendy" and unique that sets you apart from other bloggers.
To get started, all you have to do is head over to Fiverr and search "infographic" in the search bar. There, you will find dozens of graphic artists, all of whom are willing to create an infographic for just $5.
Choose the graphic designer of your choice, send them payment and the information, and wait a few days while they work their magic.
Usually in 48 hours or less, you will be gifted with an awesome infographic that you can post on social media and use for "guest posts" on other blogging sites. Pretty cool, right?
About the author: Andrew Wise is a serial entrepreneur whose sites generate $1+ million in revenue and receive 2.6+ million uniques per year. He teaches people how to start a blog online, and shares actionable advice on how you can build massive, passive income streams, designed for everyone from the complete newbie to the experienced marketer. Follow him on Twitter @WiseStartupBlog.
6. (extra bonus method!) – Guest posting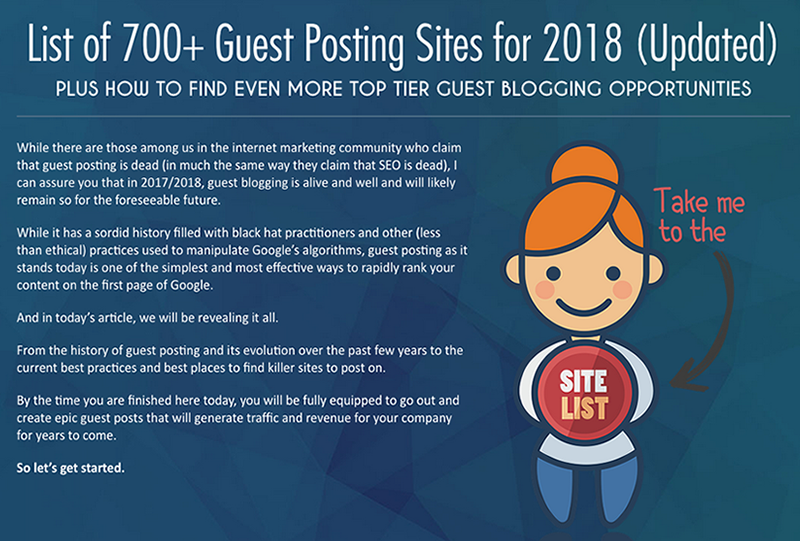 Guest posting as a means of getting traffic to your blog became very popular a couple of years ago, and then seemed to wane in popularity. However despite being less trendy than it was a couple of years ago, guest posting is still a VERY effective way of getting traffic to your blog and reaching a new audience.
Perhaps one of the reasons it's become less popular is that it's hard to find places to submit your guest posts to, and to get them accepted. This bumper List of 700+ Guest Posting Sites for 2018 — Plus How To Find Even More Top Tier Guest Blogging Opportunities from OutreachMama will solve that problem for you.
It will also give you some great tips on how to pitch your articles and get them accepted.