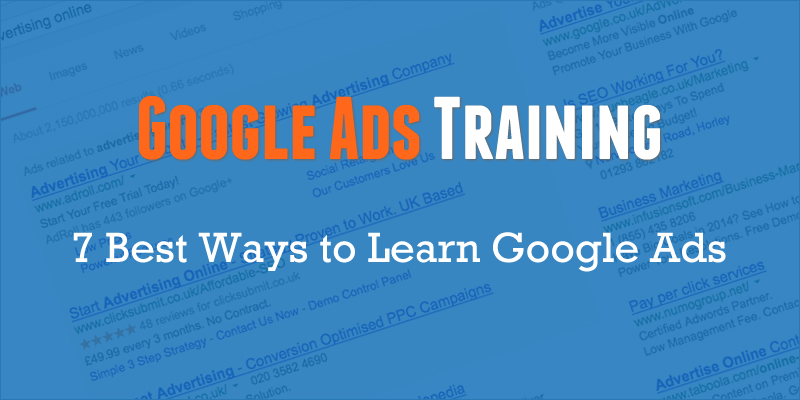 Google Ads Training: Why learn Google Ads?
Google Ads (formerly called Google AdWords) is a pay-per-click advertising service which allows you to advertise in Google's search results. It has the huge benefit of allowing you to reach people at the exact moment they are searching for something.
Imagine being able to reach people who are looking for what you're selling at the actual moment when they are looking for it…
Organic traffic and SEO (Search Optimisation) can sometimes put you in front of the right people at the right time, but it's a bit hit and miss. You might be on the first page one day, and then lost in obscurity the next. More likely, you never get on the first page at all.
Advertising with Google Ads will put you on the first page instantly. It's a unique way to reach your customers and generate sales, but it's quite complex and you need to learn how to use Google Ads properly to get the best out it.
So what is the best way to learn Google Ads? Which are the best courses and tutorials that will help you learn as quickly and painlessly as possible?
Here is my pick of the best courses and tutorials for Google Ads: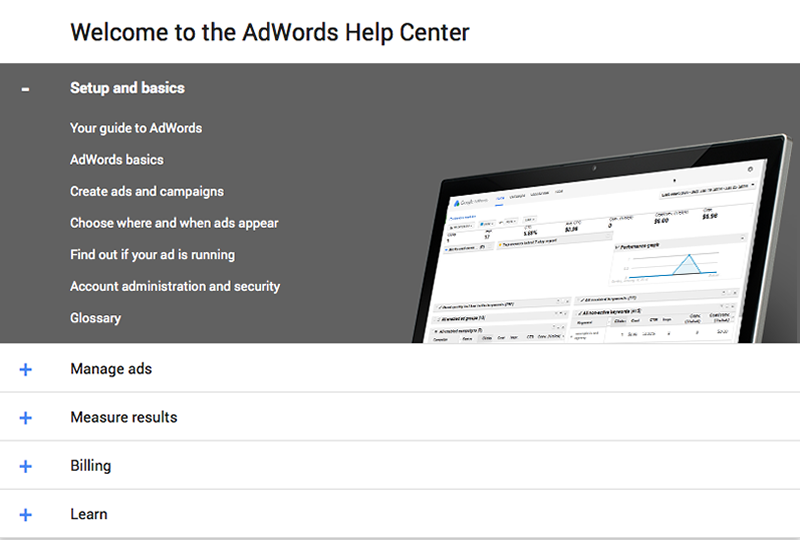 Google's own learning resources for AdWords are a very good (and free) starting point. The training is broken down into sections and you can dip in and out as necessary. There are also some very good videos if you prefer not to wade through screenfuls of text.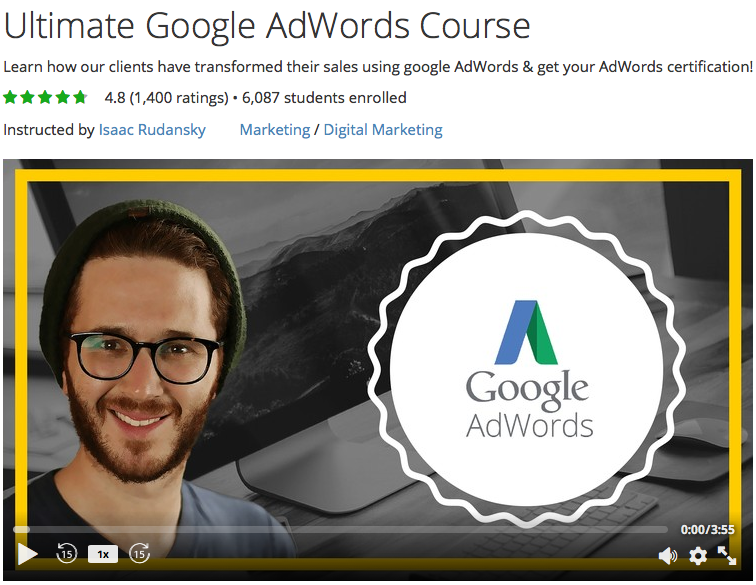 This Google Ads course has the highest student satisfaction rating of any course in Udemy's marketing and advertising section. And I can see why. I've been running Google Ads campaigns totalling millions of pounds since 2005. I didn't think there was much I didn't know about AdWords after all that experience, but I learned valuable new things straight away on this course. It's really very good.
Over 129,000 people have taken this Google Ads training course! It's presented through 81 short video lectures, totalling around 25 hours viewing. It's something of a steal at around £35 for lifetime access. The actual price you pay depends upon what promotion they are running at the time and they are nearly always running one! This link automatically gets you the best price available.
In this course you will learn:
How to set up your Google Ads account from scratch
The theory behind successful online advertising
What keywords are and how to use them to your advantage
How to set up conversion tracking and how to track phone calls from your website
How to track sales, revenue and form submissions using Google Ads
How to take advantage of competitor reports and customer data in your campaigns
How to write and A/B test your ads
How to increase Quality Score and decrease your cost per click
How to structure your account, campaigns, ad groups and keyword lists for optimal results
How to analyze keyword data in Excel to gain deeper insight into your data
How to use tools like SEMrush and Optmyzr to automate your optimization tasks and run better analyses
How to monitor your campaign performance on a regular basis
How to spot trouble in your account and what you need to do to fix it
How to understand your customers from a psychological level
Click here to see the course details.
Perry literally wrote the book on AdWords advertising. I bought this book myself back in 2010, and at the time I was already a Google-certified AdWords Consultant, but I still learned something from it. It's been updated since then, as AdWords has changed quite a lot, and is now in it's 4th edition.
It's very clear and easy to follow, but it also gives you pro tips and hard-won insider knowledge gained through Perry's vast experience, that you don't get from the standard Google training. Many people (myself included), prefer reading a book to on-screen training, so if this is your medium, get the book. Even if you choose one of the other AdWords training resources, I'd still recommend you get the book — you'll pick up things here that you won't get anywhere else.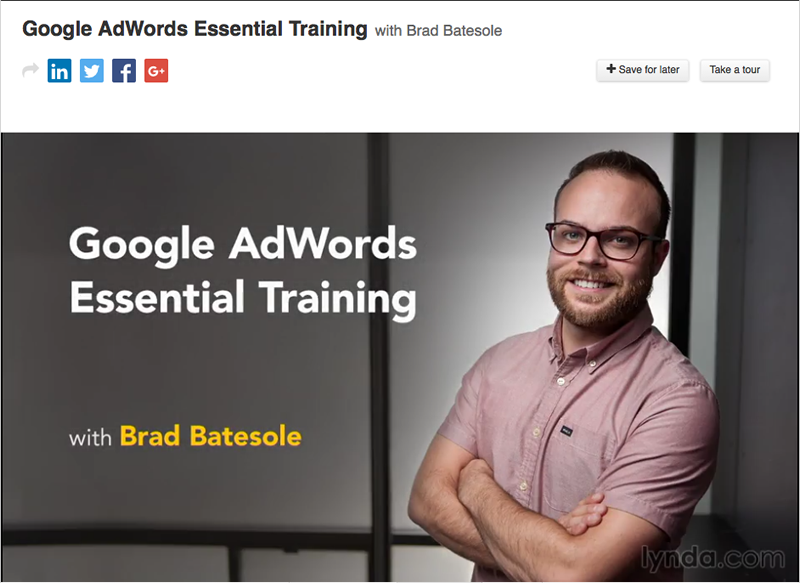 Lynda works differently from Udemy in that instead of paying for individual courses, you pay a monthly membership fee and you can take as many courses as you like. There is also a free trial period, which means if you're quick, you could take this course for free.
This course covers:
Understanding Quality Score and the auction system
Setting realistic expectations for your AdWords campaigns
Creating an AdWords account
Researching keywords with the Keyword Planner tool
Setting campaign budgets and bidding
Writing great ad headlines and copy
Using ad groups
Creating and exporting reports
Measuring ROI
Setting up Google Analytics for conversion tracking
Optimizing ads
Adjusting bids
Creating a remarketing campaign
Using ad extensions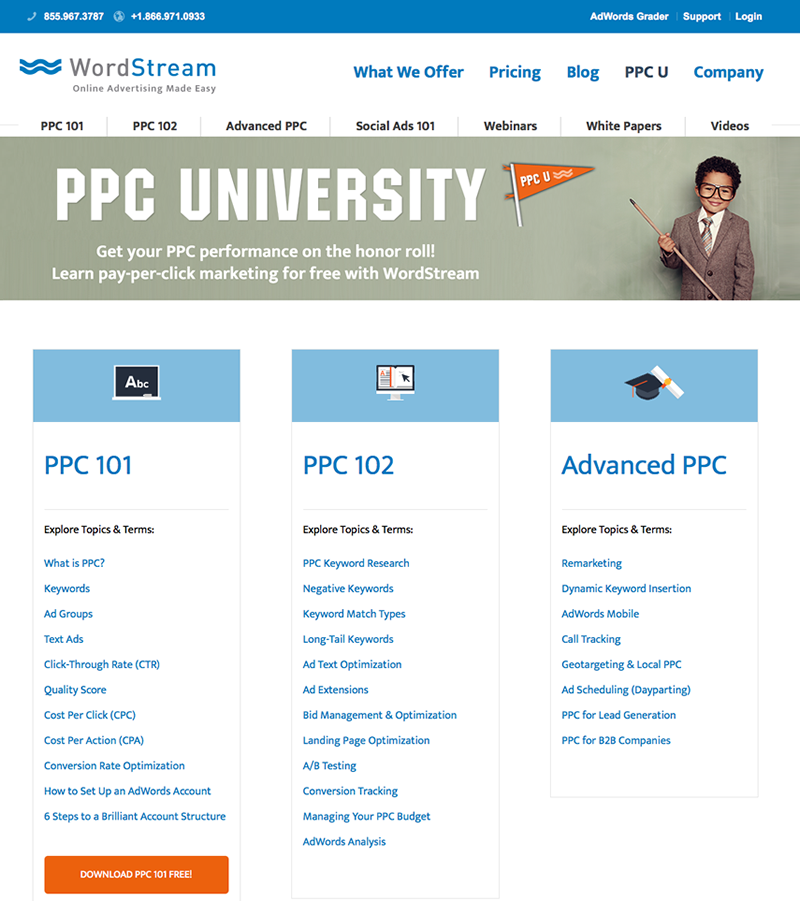 WordStream primarily offer software and managed services to help you get the most from your AdWords advertising. But they also have a very good (and free) AdWords training resource – PPC University. This is a series of self-select training modules that you can work through at your own pace, choosing what you want to learn.
It's a bit lighter and more engaging than Google's own training. It also has some useful tips based on WordStreams experience in managing hundreds of AdWords campaigns.
Once you've mastered the basics, their Advanced PPC section will teach you how to raise your AdWords game to the next level, including:
Remarketing
Dynamic Keyword Insertion
AdWords Mobile PPC
Call Tracking
Geotargeting & Local PPC
Dayparting
PPC for Lead Generation
PPC for B2B Companies
Cloning Your AdWords Account to Bing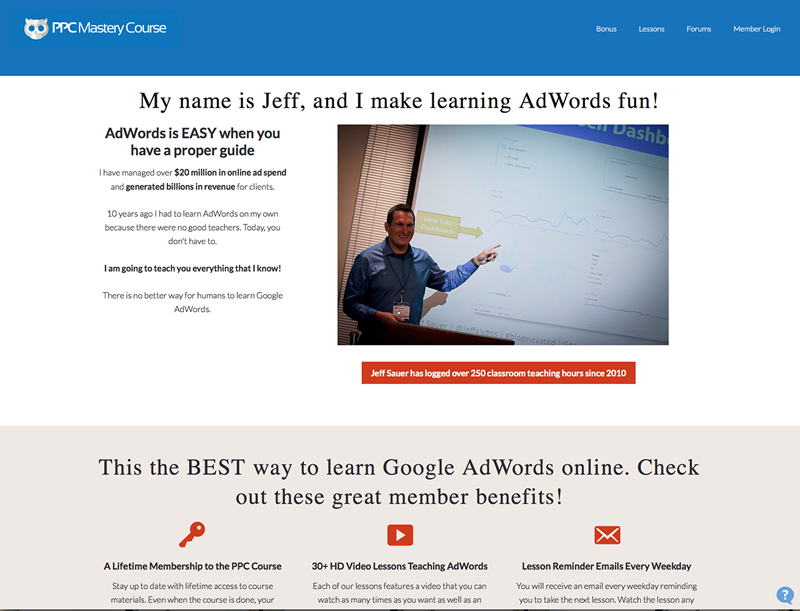 PPC Mastery is much more than just an online video training course, it's a full membership site with a discussion forum, and daily emails guiding you through the course.
The total course time is over 11 hours, far longer than the Lynda and Udemy courses, and it can be used to prepare for the Google AdWords Certification exam. There is also a free trial and a 30 day money-back guarantee.
7. Classroom Training Courses for Google Ads
We all have our preferred ways of learning — what works best for us as individuals. Whilst the online courses, videos and books above may suit a lot of people, for others there is no substitute for a good old-fashioned classroom course. A classroom course has the advantage of a teacher you can interrupt and ask questions, and other students to interact with and spur you on.
There are plenty of classroom AdWords courses available, but as you have to travel to them it's difficult to make recommendations in your area. The best thing to do to find them is to Google "adwords training courses +your location". In the UK, some of the leading AdWords training course providers are Diginius, Jellyfish and Emarketeers. In the USA, depending upon where you are you may find CardinalPath or LunaMetrics have what you are looking for.
The best way to learn Google Ads
So there you have 7 different ways to learn AdWords — from AdWords training videos, online courses and tutorials, classroom courses, to a book. Some are free, some are paid-for, just pick what suits you and dive in. In 2020 it's harder than ever to get traffic to your website and increase sales, but AdWords offers a unique opportunity to do just that (if you want to know more about AdWords read this Simple Guide to Google Adwords).
Do you have any recommendations yourself for AdWords training or courses? Please leave a comment below to let me know and I'll take a look and maybe add it into this article.
Further Reading
If you are running Google Ads Campaigns, then it is vital that you create proper dedicated landing pages for each ad. You will also need to find the best keywords to use — take a look my favourite free keyword research tools here.
If you enjoyed this, here are some more articles that may interest you:
Save