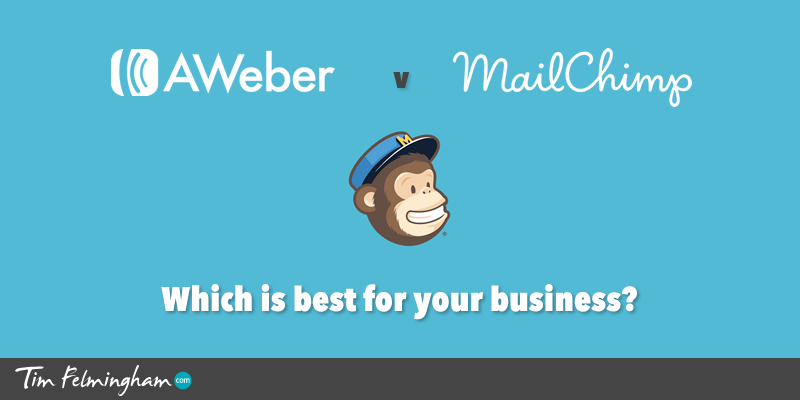 AWeber and MailChimp are two of the most popular email services, each with many thousands of satisfied customers and their own strengths and weaknesses. Although there are others, one of these is probably the best starting point. So how do you decide which email provider is the best for your business — AWeber or MailChimp?
Why you need an email service such as AWeber or MailChimp
Before we look at which is best, MailChimp or AWeber, let's first of all take a look at why you need an email service like this in the first place.
There are two main reasons:
To send high-quality emails to your audience and measure the results
Email is a very effective and very cheap way of communicating with your customers and prospects. Especially compared with advertising, where you have to pay to reach them every time.
To build an email list
Building an email list is one of the most important things you can do to build your business. Period. The reasons for this are explained elsewhere, for the purpose of this article we're going to take that as a given. If you are not doing this already, you need to start — now.
[I have a FREE email course that will teach you the latest proven techniques for building your email list — click here to get it]
What AWeber and Mailchimp can do for your business
Both of these services will enable you to send high-quality, attractive HTML (and plain text) emails to your list, using pre-designed templates which you can customise to suit your branding and design preferences, using a simple drag-and-drop editor. You can also import your own HTML email designs, perhaps created for you by a professional designer.
You can personalise these emails, for example by inserting their name into the body of the email automatically, so you can address them by name. You can also insert other variable data, such as maybe a product they are interested in, or an event they attended if you want.
Very importantly, both MailChimp and AWeber enable you to see who has opened each email, when they opened it, and what links they clicked on, if any. This enables you to see which parts of your emails work, and which don't, so you can improve your response rates and conversion rates.
They will also both allow you to do split-testing so you can try out different subject lines, graphics, and copy, to see which works best so you can optimise your results.
Both services have rigorous anti-spam facilities, including double opt-in (where the recipient confirms their permission for you to email them), to ensure the highest deliverability. It's no good sending out thousands of emails if nobody ever sees them because they get trapped in spam filters.
So that's sending email campaigns, what about building your list?
Both AWeber and MailChimp will allow you to create signup-forms, where people can subscribe to your mailing list. They both allow you to create multiple lists, and multiple signup-forms, so people can subscribe to different lists. This enables you to send different emails to different people, targeting their interests more precisely.
They both will allow you to create Autoresponders, where people who join your list will receive follow-up emails at set intervals after signing up. This is an great way to build a relationship with your subscribers by following them up automatically with a pre-designed series of emails over several days. This should be an essential part of your list-building strategy.
How to choose which one is right for you
Although both services do basically the same thing, and both are very good, there are significant differences in the way they work, and crucially, in their pricing and limitations. I have used, and still do use, both services for different things.
Mailchimp is immediately attractive because they offer a free option — up to 2,000 subscribers, which will keep many people going for a little while when they are starting out, and this is the reason many people sign up to Mailchimp in the beginning.
There are few things as attractive as something that's free! However, you can also try out AWeber for a month for free.
Once you get over 2,500 subscribers (and you will), AWeber is slightly cheaper than MailChimp, especially as your list grows further.
MailChimp also has some gorgeous email templates that are very easy to customise, and the editor is extremely easy to use. Reporting is very good, but not quite as good as AWeber's.
If you have a small email list, and all you want to do is send out nice looking emails, then your probably need look no further than MailChimp. I use this for small one-off campaigns with no strategic value — it's quick, easy, and free.
However, if you are serious about email marketing (and you should be), MailChimp has some serious limitations, especially in its free version.
The free version of MailChimp does not have an Autoresponder — only the paid version has this.
Autoresponders – the secret to building engagement with your list
Autoresponders are a crucial (and very easy) tool for building engagement with your subscribers. You should start with an Autoresponder sequence right from the beginning, even if it is only a simple, or short one. There is nothing that makes a subscriber feel more welcome, or receptive to future communications, than being followed-up after they subscribe.
They don't necessarily know it's automatic, if you do it well they will just think you care about them and are following them up individually — something you probably can't afford the time to do manually.
So if you are serious about building your email list, and you already know you should be, MailChimp's primary advantage — the fact it's free, is straight away out of the window.
MailChimp and Affiliates
If you are an Affiliate Marketer, Mailchimp is very fussy about including affiliate links in your emails. Their policy is unclear on affiliate links but people have lost their account, and their entire list, for putting affiliate links in their emails!
However, if you're not an affiliate, and never intend to include any affiliate links in your emails, this won't affect you.
Email deliverability and reporting
In terms of deliverability, reporting, support, and analytics, in my opinion AWeber has the edge, although this is just my personal opinion. Once you get into Autoresponder sequences and segmenting your lists to target your subscriber's interests more precisely — the more sophisticated stuff, AWeber is the clear winner in my opinion.
Lead magnets — the key to building your list
If you have a lead magnet or opt-in bribe (something such as a an ebook, a PDF, or a checklist, that you give away for free when people subscribe), then AWeber will deliver this for you by email, whereas MailChimp won't. These techniques increase opt-in rates hugely, so this is a tactic you must employ, which is another point in AWeber's favour.

Moving from MailChimp to AWeber
Many people start with MailChimp, simply because it's free, and then end up upgrading to AWeber. I did myself, but it's better to take a longer-term view and avoid having to switch horses in mid race. It's a pain having to take your list out of one service and add it into another. Better to start with the right service in the first place.
Incidentally, if you do have to do this (and I did), there is a commonly-held belief or myth, that AWeber will require all of your subscribers to confirm their opt-in again, even though they have already done it once. Clearly a big no-no if that was the case, however it isn't true! All you have to do is email AWeber support and they will import the list for you without a further opt-in being required.
Summary – AWeber vs MailChimp
If all you want to do is to quickly and easily send out high-quality, attractive looking email campaigns, with the minimum effort required to produce them, then Mailchimp is probably the best tool for you.
If you want to make more sophisticated use of email marketing, such as Autoresponders, Lead Magnets or Opt-in bribes, Segmenting your lists to deliver highly-targeted campaigns, and other more advanced features, then AWeber is the one I recommend and use myself.
What of the alternatives — Ontraport and Infusionsoft being the other big name email providers? Well these are more sophisticated still but they are a hefty step up in price. I would suggest you stick with either MailChimp or AWeber until you have developed some experience in email marketing and really know what you want to do, otherwise the additional features and complexity are more likely to hinder you than help you.
Next Steps
Hopefully you now how enough information to decide which email service is best for your business, at least to start with. The key thing now is to take action and implement it. Information is useless unless you act on it, so signup with whichever service suits you best, and get started!
To start a FREE Trial with AWeber, click here
 As always, if you have any questions, or need any help, please contact me, or leave a comment below and I'll do my best to help.

Recommended Reading
If you enjoyed this, here are some more articles that may interest you:
Save
Save
Save
Save