What's all the fuss about funnels…
Marketing funnels (also called sales funnels) are all the rage at the moment.
You can hardly read a single article about marketing without reading about funnels. Creating marketing funnels (or funnel hacking as it is popularly known), is currently the most talked about subject in marketing.
What does ClickFunnels do?
ClickFunnels is a unique tool specifically designed to simplify the task of building sales funnels.
For many marketers it has become their new best friend.
In this review, I take a detailed look at ClickFunnels — what it does, how it works, its strengths & weaknesses, and how it compares with the competition.
If you want to learn more about funnels, how to build them, and whether or not ClickFunnels is the right product for you, read on.
But first, a bit of background…
What is a marketing funnel?
Definition: A marketing funnel is a guided path that prospects move through in your sales process. It takes people from their first engagement with your brand (cold prospects), through a number of steps that are intended to result in one or more conversions.
A conversion can be anything — from opting-in to a mailing list, or downloading a document, to attending a webinar, or making a purchase.
A funnel will usually encourage several different conversions along the way.
Often a funnel will incorporate several branches — upsells, downsells, and one-time offers — to maximise the profit from each customer.
Customers may be offered different things at different points, depending upon the actions they take as they move through the funnel.
Funnels may be simple, or incredibly complex and sophisticated, but at the end of the day, they are all about one thing — increasing conversions and profits.
Now you see why they are so popular!
[wp_ad_camp_3]
Why do funnels work?
Marketing funnels work by guiding customers through a process that starts with a very low commitment (such as downloading a free report), and then gradually 'warms them up' and exposes them to higher-priced offers as they become more familiar with your brand, and develop trust in you.
Imagine walking up to a total stranger (who has never heard of you) in the street, and asking them outright for a large order.
It's just not going to happen, is it…
The secret funnel formula
However, if you first of all offer them something of value — for little or no cost, they are much more likely to respond.
In fact, if they are your ideal customer, and you are offering them something of value to them for free, they are extremely likely to respond.
And they will think well of you thereafter. Because you've helped them.
They have now entered your funnel…
Now you have demonstrated your worth to them, and built some trust and rapport, you can start to offer them some opportunities to buy.
You might start with a low price offer, to get some commitment from them — to get them to buy into you — before you proceed to offer them something higher priced.
If that is too much for them, you might then offer them a cheaper option (downsell).
But if they do buy, you might then go on to offer them a more expensive, premium product at a higher price (upsell).
That's the basics of a sales funnel.
The value ladder
You start with a micro commitment (such as giving up their email address to receive a free book), demonstrate your value, and then as their trust in you grows you take them up an ascending value ladder.
This method of doing business is not only extremely profitable, it's also very ethical.
It is the antidote to many of the ills that afflict online marketing.
If you practice this successfully, you won't just make more money, you'll create a business that you feel good about, and that your customers love.
In fact I would go so far as to say it is essential that you adopt these principles if your business is to survive in the future.
Because if you don't, your competitors will…
What is ClickFunnels?
ClickFunnels is a tool specifically designed to help people implement sales funnels in their business.
A typical funnel will incorporate one or more opt-in pages, an email auto responder (to send a sequence of emails that move them up your value ladder), plus one or more sales pages, order forms, additional content, member's area etc.
In the past this would require you to have a website, hosting, an autoresponder service, landing page software, split-testing software, membership site software, and probably a host of designers and programmers to cobble the whole lot together.
ClickFunnels lets you do all of that in one platform.
This not only saves you a lot of money in buying all those different products and services, it also save you the technical headache of trying to make a lot of disparate tools work together.
In fact with ClickFunnels, you don't even need a website any more…
Many people spend a lot of time creating and managing their website, without giving much thought to their actual sales process or funnel.
In reality, the funnel is the sine qua non ("without which, nothing") of your online marketing activity.
Anything that is not part of (or contributing to) your funnel is essentially pointless!
I'm not (quite!) suggesting that you should go to the extreme of ditching your website altogether yet, as Russell Brunson and the guys at ClickFunnels suggest, but it's definitely worth focusing on your funnels above everything else.
ClickFunnels will let you create all your optin pages, sales pages, email sequences, membership areas, online training courses etc, and link them together to build your funnel — all in one, easy to use tool.
Sounds wonderful? Let's see what it's like in practice…
Getting started with ClickFunnels
ClickFunnels has a free 14 day trial that will let you explore the product yourself, and check it out throughly to see if it is suitable for you.
For me the signup process for the free trial was a little clunky — you have to enter your credit card details when you signup for the trial (your card is not charged until you complete the trial — you can cancel any time), and it took a couple of attempts before I was able to register successfully.
After that however, the onboarding process was pretty slick.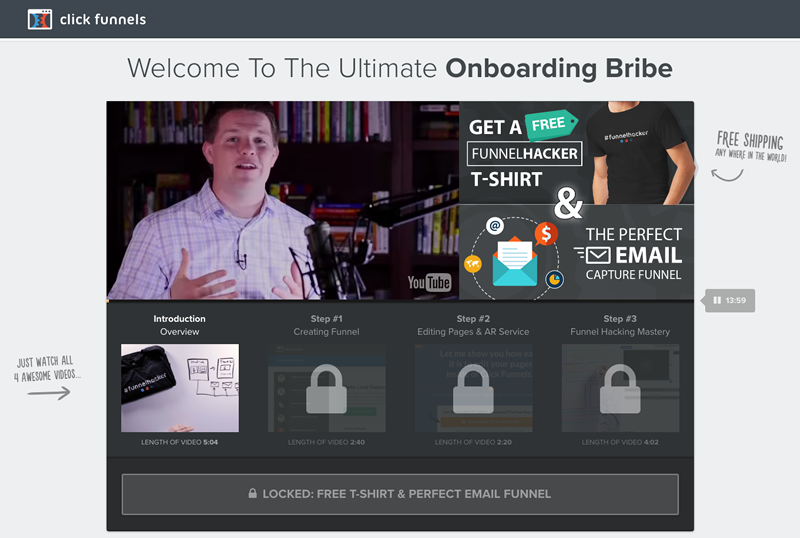 Many people don't bother to watch the tutorials when they get a new product, preferring to dive in and figure it out themselves — I am a prime offender at this!
However, by doing that you actually waste a lot of time, and it takes you longer to get up and running with the product.
ClickFunnels combat this by bribing you with a free "#FunnelHacker" t-shirt, and a ready made email funnel, if you just watch the introductory tutorial.
(ClickFunnels users go absolutely crazy for these shirts. They are incredibly passionate about the product, and the ClickFunnels user community is SO enthusiastic it's almost like a cult! Clearly ClickFunnels are doing something right to inspire such fervour in their customers.)
The training is actually very good, and explains everything very clearly and quickly.
It's just 4 videos of a few minutes each, and they are well worth watching (even if you don't want the shirt!).
Creating your first funnel
Once you've watched the introductory videos, you just follow the steps they showed you to create your first funnel.
Start by choosing the type of funnel you want to create: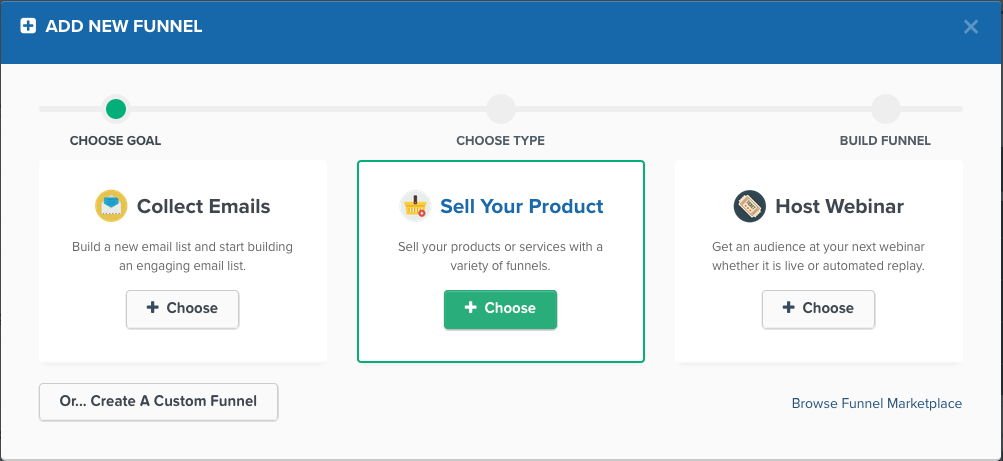 For this case study, I'm going to create a simple opt-in funnel using the 'Collect Emails' objective.
You just name your funnel, and then create your email optin page, and thank-you page, either from scratch, or using one of their ready made templates as a starting point.
For this exercise, I chose to use one of their templates and modify it, rather than starting from scratch.
In real life, I would probably create one from scratch, but actually why bother? If they are good enough for Russell Brunson to use, they are probably good enough for me!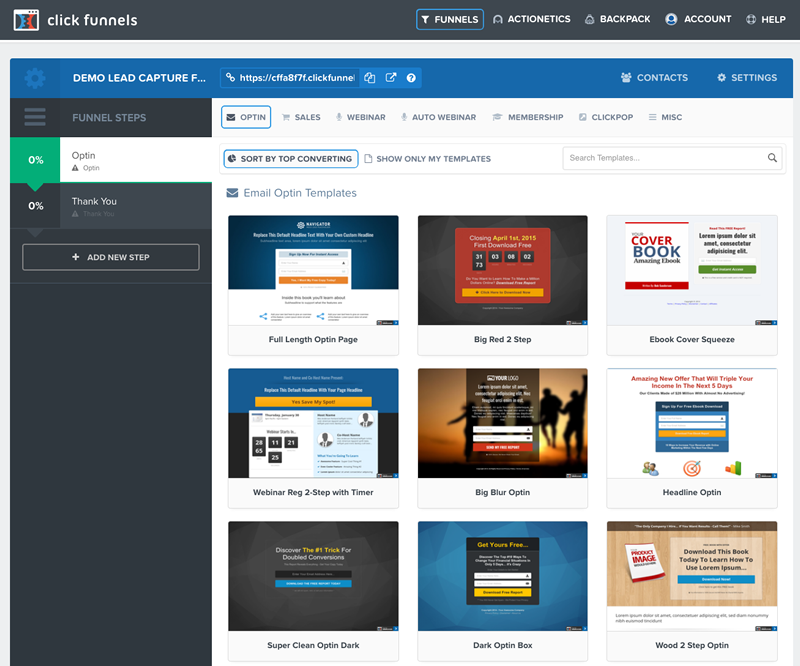 Having chosen a template, I simply replaced the copy with my own wording, added my logo and image, and that was it.
From beginning to end, this took just 8 minutes, and that was my first time using the product.
To do it again, now that I've had a little practice would take about 3 minutes.
The finished landing page: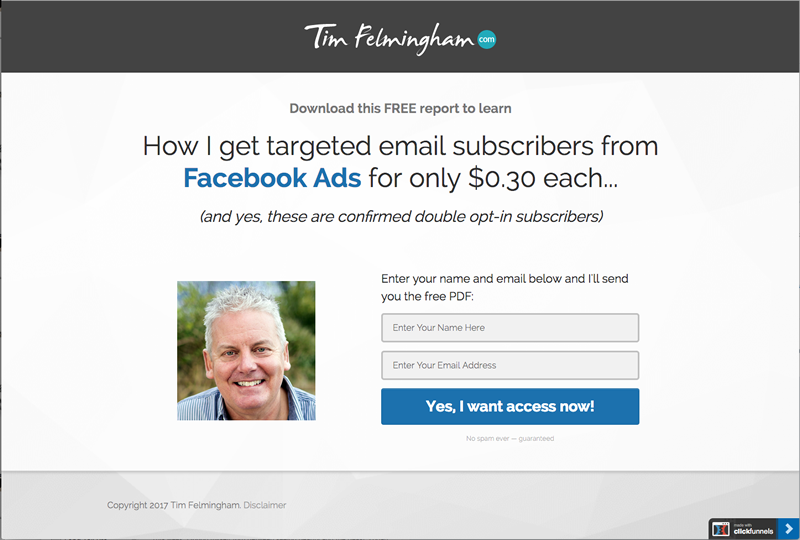 The next step is to create the thank-you page that people are taken to after they opt-in, and to connect the form to my autoresponder so that I can deliver the report and then send them follow up emails.
In all, to create a simple landing page with an email opt-in, a thank you page, and to link it to my autoresponder takes under half an hour.
You don't need any web hosting or website to publish the pages (although you can publish them on your own website if you want to).
I have to say the ease of use of ClickFunnels, and the quality of the finished pages, was excellent. They are all mobile-responsive too which means they look good on any device.
Normally, I use Thrive Landing Pages (also known as Thrive Content Builder) to build my funnel pages.
I've used this product for years, and I love it, but I have to say that with ClickFunnels it was easier and quicker to get a nice looking result.
They are not the same thing though — ClickFunnels does a whole lot more, and it therefore costs more too.
[Also, Thrive only works with WordPress, and you need to have your own site to be able to host your pages. ClickFunnels can be entirely independent of your website, and in fact you don't even need to have one at all!]
But a simple landing page set like this isn't really a proper funnel is it?
ClickFunnels is really designed to do more than that.
Far more than that…
Developing more sophisticated funnels
ClickFunnels claim that you can build any type of funnel you can possibly imagine, and from what I've seen that's certainly true.
Here are some of the different types of funnels you can create with ClickFunnels:
Lead Capture Funnels – Used to grow your mailing list.
Sales Page Funnels –Used to sell products and services, incorporating upsells/downsells/one time offers to maximise your profit per customer.
Webinar Funnels – Promote and get registrations for your webinars.
Online Courses – you can sell and host your online course entirely within ClickFunnels.
Membership Sites – Generate a recurring income by creating membership sites within ClickFunnels.
ClickFunnels comes with a selection of ready made templates for each type of funnel, and you can also create your own from scratch.
This is where ClickFunnels really shines.
The editor is very easy to use, everything seems to look nice by default, and you don't need any coding skills.
In principle, all you do is drag different elements onto the page, and change the wording and appearance (colour, font etc) to suit your needs.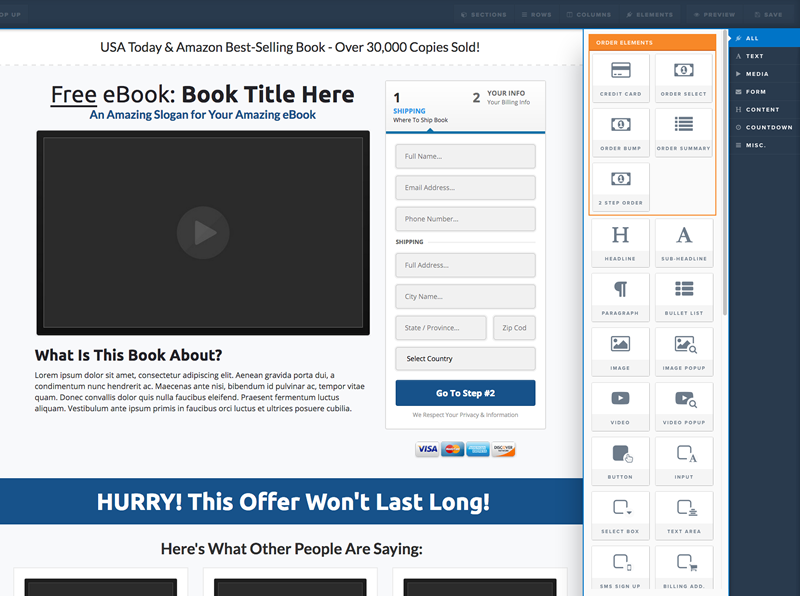 So building the pages that make up your funnel is quick and easy.
But a funnel is not just a set of pages, it is also a set of actions that take the user through a series of steps.
Your funnel will probably begin with an optin page to capture their email address.
Typically you will offer them some sort of opt-in bribe, or lead magnet, as a freebie to induce them to give up their email address.
Once they have opted-in, they will be added to an autoresponder series that will send them a sequence of automated emails over the next few days, and they will be taken to a thank-you page where they will be given the lead magnet that they signed up to get.
On this page they may be offered a chance to buy something.
This could be a never-to-be-repeated one time offer (OTO), or a low-cost tripwire offer designed to weed out the buyers from the freebie seekers.
Depending upon what choices they make, they may be presented with other offers (upsells and downsells), or sent different emails, as they progress through your funnel.
So a funnel isn't just about creating a few pages, it's also about linking these pages together with different action flows, and integrating them with autoresponders and payment processors, so that the whole process happens automatically.
Prospects go in one end, and money comes out of the other — that is probably the simplest description of a funnel.
ClickFunnels provides you with a single platform to build your entire funnel, including email automation and payment processing — without needing anything else, or even a website!
It also provides pretty comprehensive tracking and analytics so that you can see how each step in your funnel is performing, and optimise it to improve conversions and profits.
One of the main ways you can optimise your funnels with ClickFunnels is to use the built-in split testing feature to test out different landing pages, sales copy etc. to see which converts the best.
It really is an extremely comprehensive system, and to cover all of its extensive facilities is outside the scope of this article.
The best thing to do is to sign up for the free trial, and then take the free training you will get after you sign up.
Once you've watched the training videos (and DO watch them, they don't take long), have a play with ClickFunnels yourself. That's the best way to get a feel for it.
ClickFunnels Affiliate Program
ClickFunnels has an excellent affiliate program which pays out 40% of the monthly ClickFunnels subscription for any customers referred by you. And these are monthly recurring commissions — you get that payment every month, for life!
You don't need many referrals to build up a tidy income that keeps coming in month after month, without you having to do a thing!
All ClickFunnels customers are eligible to receive these commissions on referrals, and you can become a ClickFunnels Affiliate without being a ClickFunnels user.
If you are a ClickFunnels user, the ClickFunnels affiliate program allows you to defray the costs of your ClickFunnels subscription, simply by recommending a product that you use and love yourself.
If you're an affiliate marketer, then the ClickFunnels affiliate program will be extremely attractive to you, even if you're not a ClickFunnels user, because of the high-value recurring commissions you can earn. You can signup for free as a ClickFunnels affiliate here.
If you want a ready-made funnel that you can use to get new ClickFunnels customers and earn monthly recurring commissions, get yourself a free copy of The Affiliate Commission Funnel here.
The Affiliate Commission Funnel is a shortcut to generating your own recurring income stream. You get the landing page, the offer, email swipes and full training. All you have to do is to send traffic to it, and it will do the rest.
ClickFunnels Pros and Cons
ClickFunnels Pros
Very easy to build complete automated funnels
Excellent free training
Creates beautiful looking pages very quickly
Conversion tracking and split-testing to improve results
Integrates with all the major email services
Links to payment processors within ClickFunnels
14 day free trial — lets you test it risk-free
ClickFunnels Cons
Requires some investment in time to learn fully
A bit more expensive than Thrive or LeadPages (but does more)
Continuous subscription required to use your funnels
How does ClickFunnels compare?
ClickFunnels vs Thrive Content Builder (Thrive Landing Pages)
I use Thrive Content Builder (Thrive Landing Pages) all the time to build my landing pages. It's great product, and I love it, but it only does a very small part of what ClickFunnels does.
Firstly, Thrive only works with WordPress (and you must have a website to be able to use it), and secondly, it only makes pages. It doesn't include an autoresponder or some of the other advanced functions you get with ClickFunnels.
If you do have a WordPress site, and an autoresponder service, then Thrive is a viable alternative, but you have to remember it is designed for making pages, rather than funnels, so it lacks a lot of the features that ClickFunnels has.
ClickFunnels vs LeadPages
Like Thrive Content Builder, LeadPages is really designed for making landing pages, rather than building integrated funnels, so it's not a like-for-like comparison.
LeadPages will also let you make nice looking landing pages that are mobile responsive, but LeadPages is really all about producing single pages, rather than linking them together to create sophisticated funnels.
ClickFunnels is focused on building funnels, rather than just opt-in pages.
ClickFunnels vs Infusionsoft
Infusionsoft (or Confusionsoft as its detractors call it!), is massively complex product that is horrendously expensive. You can't just get started on your own — you have to pay somebody to set it up for you which costs $2,000!
Thereafter you're in for at least $300 per month, and it is notoriously difficult to use.
That's the bad bit over.
Infusionsoft is capable of building very sophisticated funnels also. In fact in some ways it's alot more powerful than ClickFunnels.
But it's not very good at making nice looking pages (ClickFunnels is very good at that), and it's certainly not quick and easy.
Final thoughts on ClickFunnels
ClickFunnels is an excellent product for building sales funnels.
It was designed from the ground up, purely for that one purpose, and so of course it does it very well.
It is not the cheapest product in the world ($97 basic level, $297 for all the bells and whistles), but it can save you the cost of several other products that you will no longer need, which may actually make it the cheaper option.
The whole purpose of ClickFunnels is to increase your profits. If you use it well, it will make you far more money than it costs you, so price shouldn't be an issue. Especially at the entry level (you can upgrade later).
There is also another huge benefit from using ClickFunnels, in addition to the product itself, that nobody talks about…
That is the education that you get along the way. Not just the product training, but the whole mindset that ClickFunnels is built around.
It pervades everything they do, and if you become a member of the ClickFunnels community, you will find it difficult to avoid raising your marketing game as you almost subconsciously absorb all these principles.
ClickFunnels is worth it for the education alone!
If you'd like to try out ClickFunnels for yourself, there is free trial of ClickFunnels available here.
Save